More efficient recurring billing: SubscriptionBridge cost savings
Handling recurring payments and supporting your subscribers can be very expensive
The hidden costs of recurring billing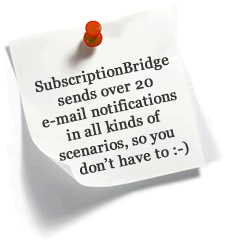 When you think of the costs associated with a business that relies on recurring billing, you may tend to focus on the costs associated with the payment themselves: the payment gateway monthly fee, the transaction fees, etc. Actually, studies have shown that most of the costs are "hidden" in the management of the recurring billing profiles:
Resolving payment issues (e.g. expired credit cards, denied transactions, etc.)
Modifying subscriptions (e.g. adding/removing features, applying a discount, etc.)
Handling one-time payments (e.g. a one-time setup fee for adding a new service)
...
More efficient recurring billing means higher margins
If you or your staff spend large amounts of time personally assisting customers with the following tasks, SubscriptionBridge could save you a lot of money (and headaches too) and improve your bottom line:
Expired or expiring credit cards
Do you try to contact customers to get them to update an expiring credit card? SubscriptionBridge automatically notifies customers if their credit is going to expire before the next, scheduled payment.
Declined payments
Do you spend time running after customers whose payment didn't go through successfully? SubscriptionBridge automatically notifies you, and allowing to send custom e-mail notifications (at different intervals) after a payment was declined.
Updating payment information
Do you manually update your customers' payment information? With SubscriptionBridge customers can do so themselves, securely.
Ending trial periods
You can configure SubscriptionBridge to notify customers that their trial is about to expire, and then again when it has expired and their full subscription has started.
Switching from Trial to Full
Sometimes customers wish to switch from a feature-limited trial to a full-featured account, before the trial period has ended. SubscriptionBridge can automatically stop the trial and start the regular subscription (the subscription amount typically changes).
Miscellaneous subscription changes
An existing customer wants to add a product/feature to her subscription. An upset customer demands a discount. A happy customer wants to upgrade to a premium service. SubscriptionBridge will help you streamline and partially automate all of these tasks.
Executing tasks when certain scenarios occur
Advanced users can take advantage of the SubscriptionBridge API to automatically react to certain events. For example, an online service could block a customer after a final notification of non-payment has been sent.
In these and many other cases, SubscriptionBridge performs a number of tasks that would otherwise be time consuming (and certainly not that exciting) for your staff and costly for you. View a list of features.